Service
Providing reliable services
Tokia Planning is a general production company with 50th anniversary.
Like a latte (milk) art drawn on a Caffè Latte (coffee with milk) at a coffee shop –
Like a chocolate put on a coffee saucer gently –
We are looking for a service that makes everyone smile.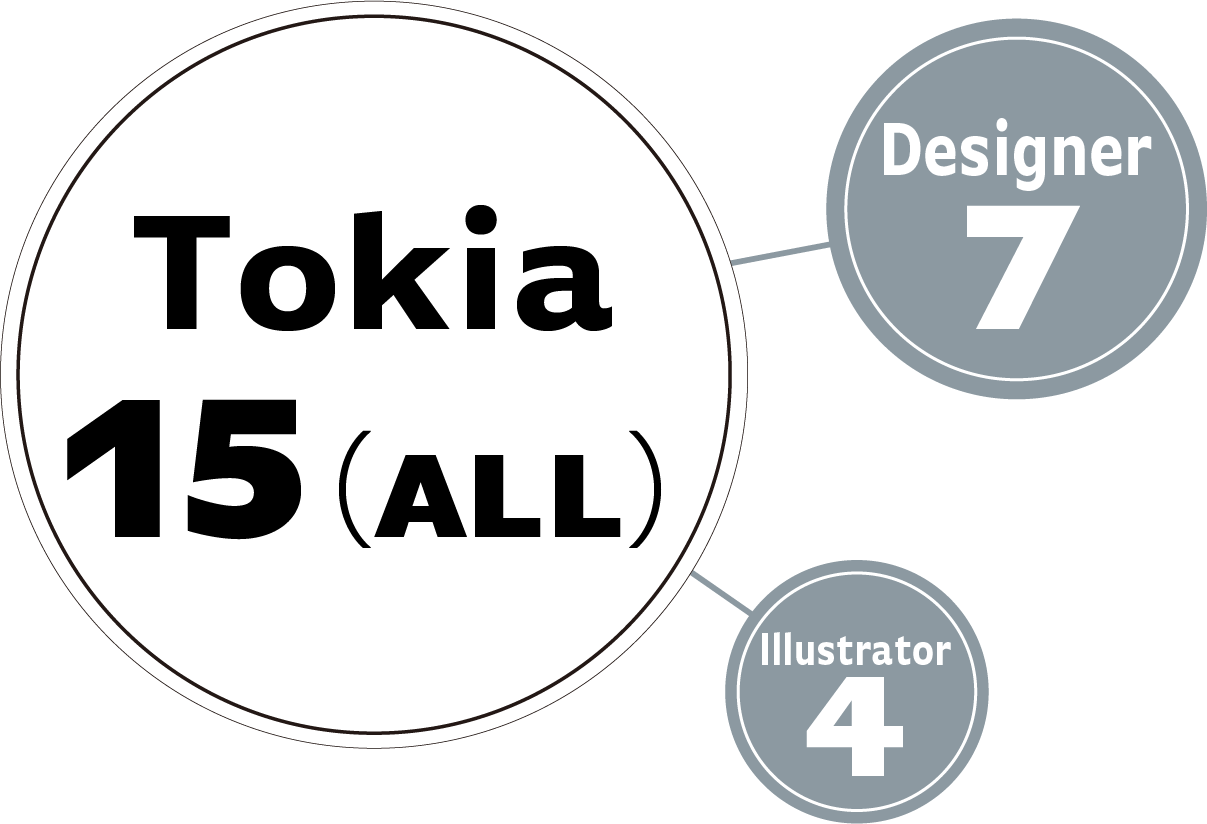 In 2020, we have 7 designers and 4 illustrators.
They are responding appropriately to many demands of Power Point, animation, conference interview and attending meetings etc.

Work
Design / DTP / PowerPoint / Printed matter
Tokia Planning specializes in designs of easy to see and to receive information.
We have been working with pharmaceutical publishers and pharmaceutical advertising agencies for a long time.
For example, monthly magazines, technical books, interview forms, product information summaries, drug information, proper use guides, training texts, pamphlets and manuals for patients, etc. We make out a design primarily which contents would be fully understood by our customers.
We also draw up Power Point slides for conference presentations and briefings, as well as graphs and charts for use in various media.
We would value an enduring job which is not flashy but can be steady.
We design and produce various medical technical books.
Please entrust design and production to us, not only the cover but the inside.

We design and produce various medical technical books.
Please entrust design and production to us, not only the cover but the inside.

We design and produce basic materials such as an overview of product information and proper use guide which are necessary for placing a new drug on the market.
Please also entrust revision work to us.

We make graphs and charts using for various media, and also make Power Point data.
We will accept irrespective of number of cases.
Illustration
We have Medical Illustration which is one of popular services.
We are finding ways to draw timely so that we may help medical professionals, such as the mechanisms of new drugs, Intercellular responses, and surgical techniques.

Super illustration of renal glomerulus
(You can compare rough and finish by dragging)

Differences in working points of anticancer drugs

Muscle and skeletal image

Synovial inflammation (Pattern design)
Others
What we design is not only to paper media, but to interviews and writing at academic conferences, aerial photography by drones, printing on tridimensional objects, creation of animation movies and other various tasks, so that we would respond to customer requests in one-stop.
We can help you with your cumbersome order management, and provide a total design that crosses all the domains.

Production environment
Adobe CS & CC, InDesign,Illustrator,Photoshop
We will produce with the version specified by our customers.
In case not specified, we may use the latest version or the same version as previous one.
― ― ― ― ―
Fonts
MORISAWA PASSPORT/Fontworks LETS
― ― ― ― ―
MicroSoft Office Excel,Word,PowerPoint
Both Mac and Windows versions are supported.
We will produce with the latest version basically.

Management
We, Tokia Planning, are performing management works for professional golfer Mr. Keiichiro Fukabori and the magician Mr. Seiju.
It is possible for us to assign influential athletes depending on the events, such as golf events appointing professional golfers, as well as interviews and movies for meeting to add the company and product awareness.

Social contribution activities
~For children and families who fight against diseases~
We are supporting "Donald McDonald House".
"Donald McDonald House" is an accommodation founded by Donald McDonald House Charities Japan (DMHC) in order to support children suffering from incurable diseases and their families who are burdened mentally and financially.
We, Tokia Planning, have been working with professional golfers since the foundation of DMHC Japan to support the construction and operation of the House.
Please see more about Donald McDonald House

Visiting the House / Commemorative photo with volunteers (Sapporo House)

Visiting the House / interacting with facility user (Sapporo House)

Charity events with professional golfers/ Group Photos of Kids Golf Event・11th Donald McDonald House Charity Golf etc.
About
Message from the President
Make everyone smile.
Since I was a little boy, I was good at making people smile and playing sports.
My first occupation was a physical education teacher taking an advantage of my specialty.
Then, my professional life was started.
After working for a sports management company, I decided to join Tokia Planning. During my hard work in unknown fields of printing and medicine, I gradually forgot to make other people smile.
But, a few years ago, there was a turning point for me.
I visited an orphanage in Myanmar. There were about 20 children, but I could not see any smiles on their faces at all.
I really wanted to see their smiles, so I gave chocolate and drawing set to them, saying "Smile! Smile!". Then, finally I saw one boy smiling.
Only one smile, but I can't forget his smile even now.
It was the moment when I realized my mission.
50 years
We were established in 1972 as a phototypesetting and mechanical printing company.
Then, we began to move into various works of DTP and medical science illustration in order to respond to changes of the times and customer requests.
This term comes to our 50th anniversary.
Tokia Planning will continue to expand their activities as a comprehensive production company.
We keep growing every day to see the smiles of as many people as we can.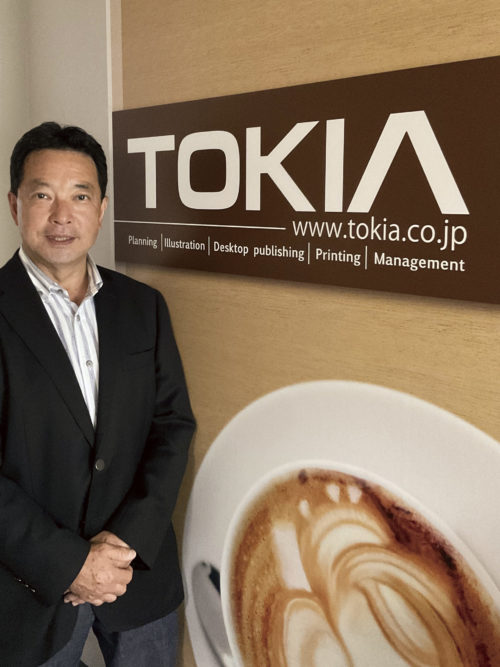 Hidenori Nishiyama
President, Tokia Planning Co., Lrd.

Company History
1972

stablished as Tokia Planning in Hirakawa-cho, Chiyoda-ku
Initially two manual typesetting machines

Sapporo Winter Olympics
Munich Olympics
Sakurajima eructation

1978

Relocated to Oishi Building in Kojimachi, Chiyoda-ku

M7.0 earthquake near Izu Oshima Island
New Tokyo International Airport (Narita Airport) opened

1986

Innovated computer typesetting machine

Soaring stock prices
FIFA World Cup Mexico Tournament
Mt. Mihara of Izu Oshima Island eructation

1992

20th anniversary ceremony
Relocated to Meikei Building in Rokubancho, Chiyoda-ku

Nozomi of New Tokaido Line operation Commenced
Barcelona Olympics
Emperor visited China for the first time

1994

Introducing Macintosh as a transition to DTP

Kansai International Airport opened
Lillehammer Olympics

2000

Relocated to Haratetsu Building in Kudankita, Chiyoda-ku

New bank bill of 2,000 yen emitted
Sydney Olympics
BS digital broadcasting started

2008

Full-scale entry into management business for professional golfer Keiichiro Fukabori

Beijing Olympics
Mr. Obama elected as US President
Four Japanese won the Nobel Prize

2010

Hidenori Nishiyama assumed the President

Asteroid spacecraft Hayabusa returned in seven years.

2016

Relocated to Kojimachi 4-chome Building in Kojimachi, Chiyoda-ku

Rio Olympics
Kotoshogiku won first victory at Hatsubasho sumo tournament
Heavy snow in the metropolitan, affecting traffic

2020

We've redesigned our website.
Company profile
| | |
| --- | --- |
| Company name | Tokia Planning Co., Ltd. |
| President | Hidenori Nishiyama |
| Established | May, 1972 |
| Paid-in capital | 10 million yen |
Business contents
General design / Medical science illustration / Sports illustration / Movie production / Management business / Charity golf planning etc.